I let go with one hand, turned,
and for the first time since I left the airlock I seriously looked at the earth;
I come from there … but … I was falling …
With each breath I inhaled the beauty of the earth from afar …
I was my own spaceship, a small human satellite circling the earth;
the earth, the moon and me.
– NASA astronaut, Steve MacLean
Falling is an innovative dance film I created and directed, working in collaboration with composer Errollyn Wallen MBE, choreographer Henri Oguike, and the Director of the Canadian Space Agency and former NASA astronaut Steve MacLean. The film was commissioned by Channel 4, ABC, Arts Council England and Australia Council for the Arts. It was selected by the prestigious FIPA (Festival International de Programmes Audiovisuels) in Biarritz, as well as for the Videodansa International Prize at Barcelona's IDN festival.
Canadian astronaut Steve MacLean's journal entries, following his spacewalk on Atlantis shuttle mission STS-115, are poetically evocative, and reveal a richness and a fragility that are to be found in our own human existence. I set-out to create a film that would encapsulate a sense of falling without ground, applying this astronaut's heightened perception to show how all of us are, in effect, space-walking/falling to Earth in every moment and with every movement. I worked closely with choreographer Henri Oguike, in a large hangar in East London, developing the choreography and camera work that would allow us to convey the loss of gravity, of perspective and of orientation; the uncertainty of direction; the loss of ground and the shifting sense of time whilst in space. Dancers Laura Peña Nuñez and Nuno Campos were coached by a a stuntman and former Olympic gymnast in the use of trampolines, in falling from great heights and in aerial work, having to endure long, arduous days of clinging to wires, of being continuously dropped and crash-landed, not dissimilar to the extremes of an astronaut's training. The film was shot on a specialised camera at a very high frame-rate, capturing the split-second instances of weightlessness that occur in free-fall. The dancers interact very closely in mid air, with great precision, to produce the eloquent moments of tenderness in the film, which are replayed in extreme slow-motion. Errollyn's spiralling music provide a spellbinding soundscape, with Steve's narration from his own journal layered on and woven in.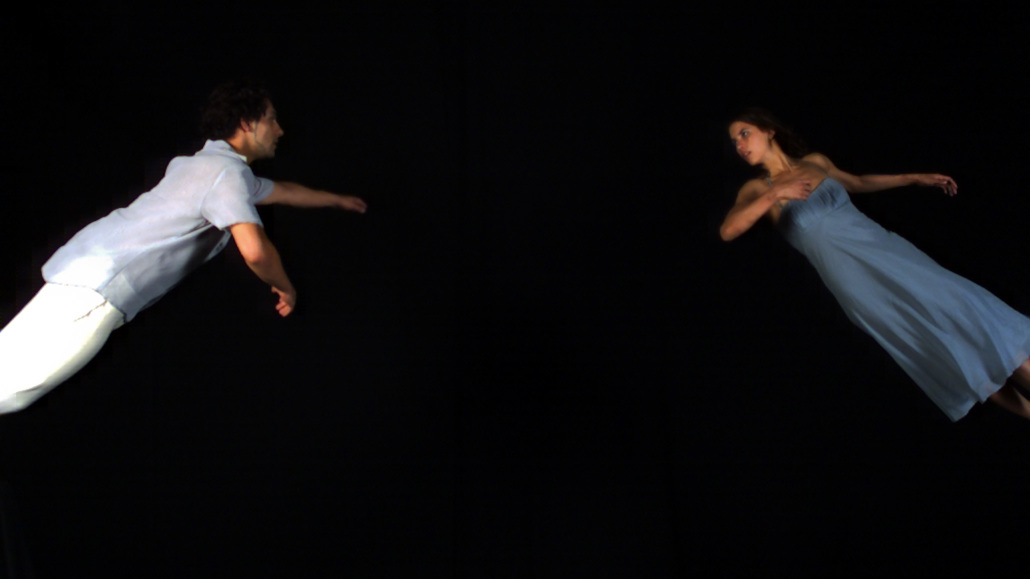 Below are short clips of unedited footage, which show a few of the original phrases, performed on the floor, on trampoline, in free-fall, or suspended on wires, and which were then combined in the edit to create the illusion of a weightless dance.